Mar 23, 2023
Visit Village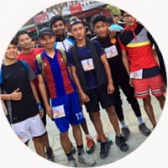 HCF insists that the children keep in contact with their village and share the knowledge they have acquired while staying at Kailash Home. It is important for the families to understand what the children are learning in order to help support them in the future. The children are always excited and a little bit nervous to return home. They change so much while attending school, but are eager to share their newly acquired knowledge with their family.
A child's personal reflection of her visit home…
"It has been 6 years since I got an opportunity to visit back my village. It was really an interesting to spend holidays with family and learn more about nature and people there.
It took 4 days to reach my home by walking. I felt peace, happy and can hear no noises like vehicle honking. It really felt that I got lost in the way and pain in my legs. I can hear the cold wind blowing, rivers running and of course it was an autumn all the leaves were fallen and different kinds of fruits can be picked.
I can see many changes in my village.
I met my dear loving mother. She was really happy to see me again. I met my childhood friends, my brother, my sister, my village people and my dear grandfather. They were very happy to see me again .I spend my joyful days with them, help my mom cutting grains, you know they sings and whistle joyfully while working. I went to see many places with my mom and friends. I was happy to see that my brother has a brown horse. We went to visit our monastery to get blessing from lama (monk). I felt very sorry to see many children sick and sore in their body. At last I felt very sad to leave them. This was one of my most memorable days".
Sonam Chokyi Lama Class: VI
Every year we endeavour to send at least half of our children back home to their villages so that they are able to keep in contact with their families and culture. This year children from the regions of Manang, Mustang, Dolpo, Rasuwa, and Pokhara will be returning home. As you can imagine the children get very excited about returning back to their village and a chance to show off their new found skills.
Post Comments