Mar 23, 2023
Community Water Project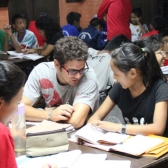 The aim of the project was to bring a fresh water supply to the Kailash Home as well as improve the existing supply from the local community. A total of US$ 10,000 was estimated to fund the project. Much of this was raised from the generous donations made by our supporters through www.globalgiving.org - See more at: http://hcfnepal.org/project/community-water-project/#sthash.vJu2WWVG.dpuf
AKIS SCHOOL Dohar
The 12th grade children of the AKIS School in Dohar volunteered to assist with the water project as a part of their Duke of Edinburgh Gold Award Scheme as well as to raise funds. They raised a total of US$ 4000 for the project. The children also participated in a 5 day trek in the Annapurna region.
Al Khor International School (AKIS) is a vibrant, fast growing school with privileged facilities. The school is located about 40 km away from Doha and houses about 4,000 residents from about 36 nationalities.
Then will be taking their School Leaving Certificate exam.To date we have had 5 children that have taken the exam and all have passed with flying colours.
THE WORK:
The children participated along side our Kailash Home children in repairing and cleaning the existing water supply tanks and fixing new pipes. Cement had to be mixed and bricks had to be carried. The work was challenging and tiring for the students but everyone participated with vigour, humour and teamwork.
Some feelings and experiences gain by our children during water project & art craft work.
I had a wonderful time working with the students of Al- International School of Qatar .Its been really good experience working with them. Although they didn't have any experience of digging they did a good job. Interacting with them was the close to their tradition and religion. We had fun, playing basketball and sharing Jokes. Lastly, I would like to thank them for all the hard work and other things they did for us.

Dawa Gyalpo- X
- See more at: http://hcfnepal.org/project/community-water project/#sthash.vJu2WWVG.dpuf
Post Comments