The Himalayan Children's Foundation (HCF) was founded in 1997 by a group of young and energetic Nepali social workers with the objective of improving the education, health and living condition of helpless, poor and orphaned children from the mountain districts of Nepal. Particular focus is placed on the Tibetan border regions of Dolpo, Mustang, Manang, Gorkha, Baglung and Solukhumbu etc. Due to the remoteness of these areas, basic education is essentially unavailable.
The Himalayan Childrens' Foundation (HCF) family.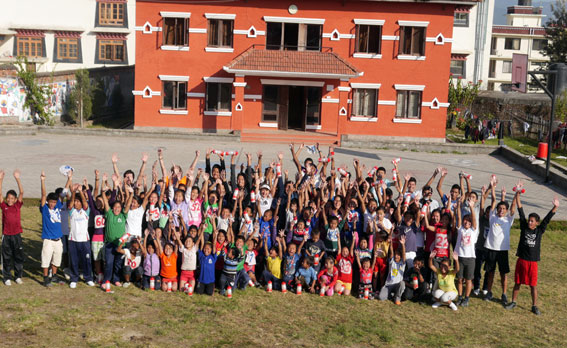 The main aim of HCF is to provide the children with a secure and homelike environment give them the opportunity of a decent education and, in the long term, enable them to become independent and self-supporting. HCF is a non-political, non-profit and non-religious Non-Government Organization (NGO), registered with Government of Nepal and affiliated with the Social Welfare Council. HCF believes that many individuals and groups, that know and love Nepal, are looking for ways to help the country develop and it is clear that a good education for children is a major factor in achieving the long term sustainable development of the country.