Mar 23, 2023
September 2014 enewsletter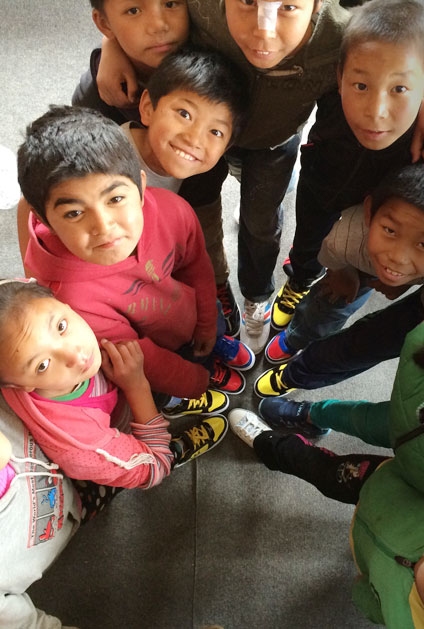 This space will be used to for the quarterly enewsletter that we publish. The file below is a sample.
Hearty Greetings from Himalayan Children's Foundation!
A lot happened within the 3 months since our last enewsletter in July. We made a lot of friends and great memories with special people who gave their time and energy to help our children during their free time.
We also proudly admitted the new batch of Grade 11 or high school students in their new college. They are today comfortably adjusted in their next level of Higher education. We today have a total of 24 children attending college. 6 Students are studying Humanities, 11 students are studying Management and 7 students studying Science stream.
We also bid bye to our first child to continue her further education in the US. It was emotional, tearful as well as highly motivating for our children as they say Good bye and Good luck to Tenzin Moenkyi. She commences her education at Colorado Mountain College. She leaves this family stronger, brighter and looks ahead to a life full of promises. A wonderful story of progress since the time she was taken care under Himalayan Children's Foundation as a very young child.
The school and college children also had their First Term exams in the new academic session and we hope our sponsors have received the report cards that we had dispatched already via post. Our Tutors and Kailash Home staff have worked hard to bring some changes and provide additional support to our weaker children at school. And we have seen some improvement in their first internal test. We remain positive of further improvement in their academic results.
In the meantime, Kailash Home and its family warmly welcomed Gilda Francois from UK, a seasoned teacher who was with us helping our children brush up their English language, build our younger children motor skills and took them for recreational trips outside Kailash premises. Following soon was the trip of young visitors Maria Duró and Inès Bartolome. Both are young university students. While coming from diverse backgrounds they shared a bond with our children, especially the girls and discover how much they have in common. They brought laughter, new activities and friendship. During the same period Kailash Home and its family have befriended a Japanese couple who visited as much as they possibly can. They shared their culture and cuisine. And they hosted a Japanese dinner during our Children monthly birthday celebration. Besides the fun It was a wonderful experience for the overall growth and exposure for our children. We thank Koji and Nao as they left back to their country enthusiastic to start up something to support Himalayan Children's program. Our last family volunteering with us was Diana Martin and Jan Orteu from Andorra. Jan experienced our school system attending the school with our children while Diana planned activities and homework support for our children. They also introduced a lot of outdoor and physical exercises which our children participated and enjoyed heartily. They are all back in their country but the memory and the experiences that they shared lives vividly with all of us here. Thank you to all of them in making Kailash Home a brighter and more vibrant home.
With Summer, monsoon was not too behind in Nepal. It was a respite and the cooling effect was a blessing for the whole country. It also becomes a season to prepare for the multitude of people who loves and visits Nepal in Fall. Our children joined heartily in the rice plantation in our fields during this season. As children everywhere they enjoyed the joys of work and play in the waterlogged rice fields. Working as a group, with their own fields allotted to them, they worked efficiently in the rice plantation. As we weather the rainy months, we take joy in seeing the plants grow tall and green. A delight for the eyes and energy to the senses. Kailash Home and its vicinity today sport a fresh, cool look amidst the green rice fields.
Nepal gets ready for big celebrations in October. Dasshain and Tihar Festival are two very important festivals in Nepal. Celebrated as a victory of good over evil, this predominantly Hindu celebration is widely enjoyed by all communities alike. It is also a government holiday and hence much looked forward to by our children also. But this year we have an additional reason also. Come October and our children will be with those families who
have been supporting this Foundation for many years. They are eager and anticipating the visit of their sponsors. Many children are participating in the visit program while some plan their individual surprises. There is still a month and we hope this newsletter will reach our sponsors in time to help decide your itinerary for the Nepal trip. Organized by Himalayan Youth Foundation and Escape to Nepal, please visit their site for more information and details.
http://hyf-us.org/visit-nepal-and-meet-the-children
In the midst of these fleeting days, our children continued with their regular chores putting effort and time to their studies while enjoying their monthly birthday celebrations. Our bakery class program continues to provide fresh bread for the home while teaching a new skill for our children. Our children are all hale and hearty and recently they participated in Kathmandu Marathon and came near to winning the title. But more than the title was the reflection that our children are strong and healthy, those being the most important resources for building their future.
As Monsoon departs and autumn knocks softly we look forward to meeting our partners, sponsors and well wishers whose support and love are the foundation for making the dreams possible for this Kailash Home family. We have a date and we look forward to it excitedly!
Namaste and see you soon!
Post Comments